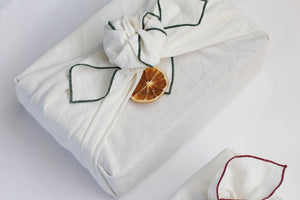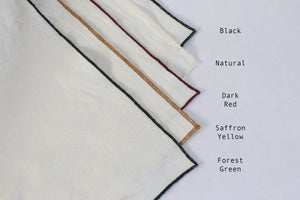 Bojagi/Furoshiki Re-usable Gift Wrap
This re-usable gift wraps draws inspiration from the Korean Bojagi and the Japanese Furoshiki. Re-usable gift wraps feature heavily in these cultures. Over time, wrapping with cloth has come to signal a heightened level of care and thoughtfulness for these cultures in a way that is hard to be replaced by paper wrappers.
But what do you do with the wrappers once it is used? 
It is highly acceptable to wash, press and reuse them for gifts. Perhaps this might be a chance to form a circle of friends and family where re-usable wraps are recirculated. To add some uniqueness, we would recommend decorating with foraged seasonal foliage. 
Specifications: 
- In forest green only
- 60cm x 60cm
- Fabric is organic cotton 45% and organic hemp 55%
- Hand-made in England in a smoke-free, pet-free environment

Our wrap is produced by Econte Labs as part of a collaboration. Find out more about Econte here. 
Complimentary gift wrapping service for qualifying sized items with every purchase. Please specify the item you wish to have wrapped in the comments section at checkout.